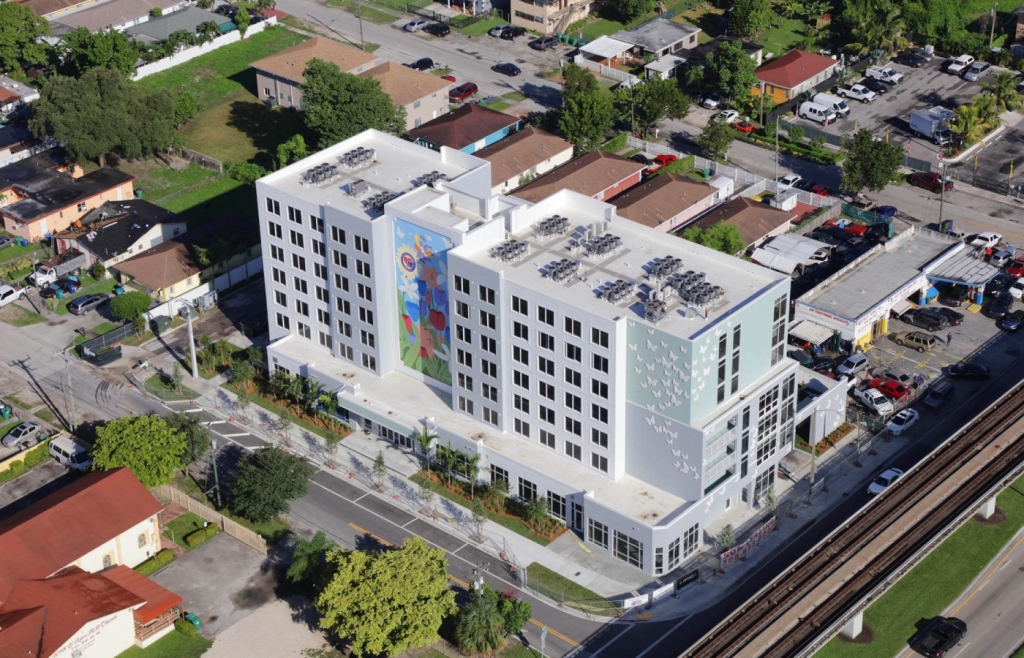 Steve Protulis Tower East Projected for Construction Completion December 1, 2021
MIAMI, FL (November 9, 2021) – Two residential towers that will provide seniors and the disabled with affordable housing options in the Brownsville area of Miami are getting closer to construction completion. Elderly Housing Development and Operations Corporation ("EHDOC") and Integra Investments ("Integra") are developing Steve Protulis Towers East & West in honor of Steve Protulis, the former President and CEO of EHDOC. Melanie Ribeiro, EHDOC's new President and CEO, noted, "We are elated to honor Mr. Protulis with these two new luxurious buildings and look forward to continuing his legacy by expanding affordable housing opportunities for seniors across the country."
Steve Protulis Tower East, 2495 NW 54th Street, Miami, FL 33142, will offer 50 one and two-bedroom units ranging from approximately 556 to 898 square feet.
Steve Protulis Tower West, 5500 NW 27th Avenue Miami, FL 33142 , will offer 69 one and two-bedroom units ranging from approximately 621 square feet to 1,012 square feet.
Roland Broussard, Vice President of Development for EHDOC, noted, "We are excited to add 119 quality apartment homes to the Miami market. The project's development is possible utilizing low-income housing tax credits with 100% of the units having income and rent limits published annually by Florida Housing Finance Corporation. We have received an enthusiastic response given the demand of quality affordable apartments in Miami-Dade County."
The one and two-bedroom units are an affordable solution for seniors in the workforce or the disabled who have income limits from $37,980 to $72,320. Applicants with a Choice Section 8 Voucher are encouraged to apply. Steve Protulis Towers East and West are located near transit rail lines and several municipal bus routes. "The location is ideal for those who do not wish to maintain an automobile," continues Broussard. "The properties are close to transit, and also convenient to services and retail."
The unfurnished units will feature fully equipped kitchens with quartz countertops and stainless-steel appliances, zero-entry showers and optional leased washer and dryer in the unit. Community amenities include fitness center, computer center, card operated laundry and more. Steve Protulis Towers will have on-site management and service coordinator offices.
Construction on the East Tower is expected to be completed mid-November with occupancy commencing around December 1, 2021. For more information or to inquire about eligibility for residency in either community, please call (305) 633-8200/TTY 1-800-955-8771, or visit https://www.ehdoc.org/state/florida/.
About EHDOC
Elderly Housing Development & Operations Corporation develops and manages safe, secure and affordable housing for senior citizens across the United States. The company, established in 1996, maintains communities in 14 states, Washington, D.C. and Puerto Rico comprising almost 4,500 apartments which house nearly 4,800 residents. EHDOC advocates for the highest quality of life for the seniors of today and tomorrow. EHDOC complies with the Federal Fair Housing Act through Equal Housing Opportunity. For more information, visit www.ehdoc.org.
About Integra
Integra Investments is a Miami-based private equity and full-service real estate development company. As part of its services, the company conducts acquisitions, development, construction management and asset management for real estate ventures in Florida. Their focus is on the residential, land, office and mixed-use asset classes, targeting high, value-add opportunities in niche markets. For more information, visit www.integrafl.com.